WHAT IS A BUSINESS LOAN?
BECTIC FINANCE COMPANY LIMITED.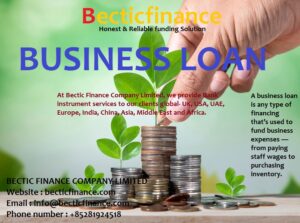 BUSINESS LOAN.
A business loan is a loan specifically intended for business purposes. As with all loans, it involves the creation of a debt, which will be repaid with added interest.
https://en.wikipedia.org/wiki/Business_loan
A small business loan is a provision of capital, received via contract with a direct lender, paid back with interest and/or fees. Some lenders charge fees, such as origination, service, or application fees.
A small business loan is a type of commercial financing qualified businesses can get from traditional banks, online lenders and credit unions. Businesses can use funds to cover the costs that come with operating and growing a business, including everything from working capital and equipment purchases to larger purchases like real estate.
https://www.forbes.com/advisor/business-loans/how-do-business-loans-work/
Key Takeaways;
*Small businesses can use loan funding to meet a variety of needs without having to tap into cash reserves or drain cash flow.
*Some of the most common uses for small business loans include purchasing real estate or equipment, expanding operations, and stocking up on inventory.
*When comparing small business loans, it's important to consider your needs in order to select loan options that are best suited to your goals.
*Business owners can compare loans from their bank, other local or big banks, credit unions, and online lenders to find the best option.

HOW BUSINESS LOAN WORKS. THE FUNDAMENTALS.
Let's address some fundamentals before we dive into the answers on how exactly business loans work.
Today the market of small business loans is constantly evolving as technology, regulations, and preferences shift, there are infinitely many ways in which a business loan could work.
Business loans provide business owners with financing either as a lump-sum payment or credit line. In exchange for this funding, your business agrees to repay the money it borrows over time, plus interest and fees. Depending on the type of business loan, your lender may require daily, weekly or monthly payments until fully repaid.
Additionally, business loans are either secured or unsecured. Secured loans require collateral— something of value the lender can repossess if you fail to repay—to back the loan, like real estate, equipment, cash or investments. Unsecured loans, however, do not require collateral. Instead, you typically have to sign a personal guarantee agreeing to accept personal liability if the business doesn't repay its debt as promised.
WHAT ARE BUSINESS LOANS USED FOR?
Business loans have long been a viable way to keep operations going. They are used by business owners for many reasons, such as a short-term boost to cash flow or to cover the cost of pricey equipment. Business loans can also be used to pursue growth and to consolidate high interest debt.
USES INCLUDE :
* Startup costs
* Commercial real estate purchases and/or remodeling
* Cashflow for everyday expenses
* Debt consolidation or refinancing
* Equipment purchases
* Inventory purchases
* Business acquisitions
* Business expansion
* Business franchising
* Marketing and advertising
* Refinancing

TYPES OF BUSINESS LOANS.
Here are the 10 most-popular types of business loans.
1. SBA Loan.
The U.S. Small Business Administration helps small businesses get funding by setting guidelines for loans and reducing lender risk. These SBA-backed loans make it easier for small businesses to get the funding they need.
2. Term Loan.
A term loan is a monetary loan that is usually repaid in regular payments over a set period of time. Term loans usually last between one and ten years, but may last as long as 30 years in some cases. A term loan usually involves an unfixed interest rate that will add additional balance to be repaid.
3. Business lines of credit.
A business line of credit lets a business borrow up to a certain amount of money and will only charge interest on the amount of money borrowed (like how your credit card works). A line of credit is unlike a traditional loan where you'd be given a lump sum of money that you'd pay back with interest in monthly payments.
4. Equipment loans.
Equipment financing refers to a loan used to purchase business-related equipment, such as a restaurant oven, vehicle or copy machine. When you take out an equipment loan, you'll need to make periodic payments that include interest and principal over a fixed term.
5. Invoice factoring.
Factoring is a financial transaction and a type of debtor finance in which a business sells its accounts receivable to a third party at a discount. A business will sometimes factor its receivable assets to meet its present and immediate cash needs.
6. Invoice financing.
Invoice financing is an accounting method that lets businesses borrow against their accounts receivable to generate cash quickly. With invoice financing, a company uses an invoice or invoices as collateral to get a loan from a financing company.
7. Merchant cash advances.
A merchant cash advance was originally structured as a lump sum payment to a business in exchange for an agreed-upon percentage of future credit card and/or debit card sales.
8. Personal loans.
A personal loan is a form of credit that can help you make a big purchase or consolidate high-interest debts. Because personal loans typically have lower interest rates than credit cards, they can be used to consolidate multiple credit card debts into a single, lower-cost monthly payment.
9. Business credit cards.
A business credit card is a credit card intended for use by a business rather than for an individual's personal use. Business credit cards are available to businesses of all sizes and can help them build a credit profile to improve future borrowing terms.
10. Microloan.
In the United States, the MicroLoan Program is a program administered by the Small Business Administration. Since 1992, the MicroLoan Program has provided microloans to start-up, newly established, or growing small business endeavors.
HOW TO GET A BUSINESS LOAN.
The business loan application and underwriting process varies by lender, but most banks and lenders follow the same general guidelines.
Here's how to get a small business loan.
6 Steps to Get a Business Loan:
1. Learn what lenders look for.
2. Decide what type of financing you need.
3. Find out how to get approved.
4. Gather documentation.
5. Find a lender.
6. Fill out the application.
REQUIREMENTS FOR BUSINESS LOAN.
The documents and details you'd need to share would depend on the type of financing you're seeking and the lender you're working with. In addition to basic details about your business, including your tax ID and industry, generally, you could expect to hand over the following information:
-Time in business
-Personal credit score
-Business credit score
-Annual business revenue and profit
-Bank statements
-Personal and business tax returns
-Loan purpose
-Desired loan amount
-Business plan
-Industry
-Entity type
-Business licenses and permits
-EIN
-Proof of collateral
-Balance sheet
-Copy of your commercial lease
-Disclosure of other debt
-Accounts receivable and accounts payable aging
-Ownership and affiliations
-Legal contracts and agreements
WHAT TO CONSIDER WHEN CHOOSING A BUSINESS LOAN.
Here are some recommendations for choosing the right loan for your situation.10 Factors to Consider When Evaluating a Business Loan Offer:
1. The Business Lender's Reputation.
2. Loan Type.
3. Collateral Requirements.
4. Loan Repayment Terms.
5. Payment Process.
6. Borrowing Amount.
7. Interest Rates.
8. Loan Fees.
WHERE CAN YOU GET A SMALL BUSINESS LOAN?
Small business loans are available from a variety of traditional banks and credit unions as well as online lenders. However, each lender is limited by its own financial products and lending requirements.
You can get business loans from Banks, Credit Unions and Online Lenders.
Business loans let eligible business owners borrow funds to cover company-related purchases and operating expenses. Whether you're just starting your business or trying to grow, business loans can help you access the capital your business needs to thrive.
Bectic Finance Company Limited is an online lending platform offering financial instruments and loans to Business owners and entities all round the world
Bectic Finance Company Limited is the best business loan company for all businesses. Why? because Bectic Finance Company Limited is more like a loan matchmaker than a lender—which is good news for you. If you need funding right away?As in, you need funding now, not two days from now?Bectic Finance Company Limited is the lender you want. Bectic Finance Company Limited specializes in bank instrument leasing and financing, but we also offer personal loans and working capital loans.
For business owners who want to consider different borrowing options and not overpay for a loan, Bectic Finance Company Limited stands out. We have a strong partner network, and we provide quick funding.
At Bectic Finance Company Limited, we provide Bank instrument services to our clients global- UK, USA, UAE, Europe, India, China, Asia, Middle East and Africa.
Contact Bectic Finance Company Limited with your request via email and we will provide you with our forms and procedures.
For more information, please contact us:
BECTIC FINANCE COMPANY LIMITED
Website : becticfinance.com
Email : info@becticfinance.com
Phone number : +85281924518
Intermediaries/Consultants/Brokers are welcome to bring their clients 100% protected. In complete confidence, we will work together for the benefits of all parties involved.
#Bankinstrumentproviders, #Bankguarantee(B/G)providers,  #StandbyLetterofCreditprovider, #Moneylenders, #Projectfunding, #Projectfinancing, #Sblcproviders, #Leasebgsblc, #Leasesblc, #Leasebankinstruments, #Businessloans, #Businessloanlender, #Smeloans, #Nonrecourseloans, #becticfinancecompanylimited,  Bank Instruments Providers, Bank Guarantee (BG) Providers, Standby Letter of Credit (SBLC) Provider's, Bank Instrument (BG/SBLC) Monetizers.