WHAT IS A MONEY LENDER?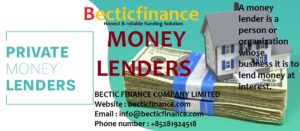 BECTIC FINANCE COMPANY LIMITED
WHAT IS LENDING?
Simply put, lending allows someone else to borrow something. In terms of business and finance, lending often occurs in the context of taking out a loan. A lender gives a loan to an entity, which is then expected to repay their debt. Lending can also involve property or another asset, which is eventually returned or paid for in its entirety.
A moneylending loan is a type of loan that is for a short term and at a high cost. Using a moneylender is one of the most expensive ways to borrow money.
Moneylending loans are generally:
*For small amounts compared to other types of loans
*For short periods
*At a high rate of interest compared with other loans available
Banks, building societies, insurance companies and credit unions are not moneylenders.
HOW LENDING WORKS.
Lending occurs whenever a lender gives something to a borrower on credit. It's a broad term that encapsulates many different kinds of transactions.
Common lenders include financial institutions, such as banks and credit unions, that build a business model around lending money. The borrower pays a price for taking out the loan in the form of interest. If the lender feels there's a higher risk of not being paid back by a borrower, like with a new startup business, they will charge that borrower a higher interest rate. Lower-risk borrowers pay lower interest rates.
Lenders do not participate in your business in the same way as shareholders, owners, or partners. In other words, a lender has no ownership in your business.
TYPES OF LENDING.
1. CONSUMER LENDING.
Consumer lending provides financing for personal, family, or household purposes. The loans can come from a variety of places, including financial institutions or lending platforms
2. BUSINESS LENDING.
A lending agreement between a lender and a business in which the lender gives money to the business, and the business pays it back in an agreed-upon amount of time with an agreed-upon amount of interest.
DIFFERENCES BETWEEN CONSUMER LENDING AND BUSINESS LENDING.
CONSUMER LENDING  – also referred to as personal loans are a form of financing that is granted for the borrower's personal use; personal loans can be either secured or unsecured.
BUSINESS LENDING – A business loan is a loan specifically intended for business purposes. As with all loans, it involves the creation of a debt, which will be repaid with added interest
WHO IS A LENDER?
A lender is an individual, a group (public or private), or a financial institution that makes funds available to a person or business with the expectation that the funds will be repaid. Repayment will include the payment of any interest or fees.
https://www.investopedia.com/terms/l/lender.asp
A money lender is a person or organization whose business it is to lend money at interest.
KEY TAKEAWAYS;
A lender is an individual, a public or private group, or a financial institution that makes funds available to a person or business with the expectation that the funds will be repaid.
Repayment includes the payment of any interest or fees.
Repayment may occur in increments (as in a monthly mortgage payment) or as a lump sum.
UNDERSTANDING HOW BORROWING AND LENDING WORKS.
Usually, lenders are reimbursed by ongoing, monthly payments made by the borrower until the total amount owed is received. In return for lending the money, the lender charges the borrower a percentage of the amount borrowed, which is known as an interest rate.
UNDERSTANDING LENDERS.
Lenders provide funds for a variety of reasons, such as a home mortgage, an automobile loan, or a small business loan. The terms of the loan specify how it must be satisfied, e.g., the repayment period and the consequences of missing payments and default. A lender may go to a collection agency to recover any funds that are past due.
HOW DO LENDERS MAKE LOAN DECISIONS?
Lenders use both qualitative and quantitative measurements to evaluate a lender's creditworthiness. Sure, they look at credit reports, credit scores, income statements, tax documents and more, but they also take into account information about the loan itself.
HERE ARE FIVE COMMON REQUIREMENTS THAT FINANCIAL INSTITUTIONS LOOK AT WHEN EVALUATING LOAN APPLICATION;
1. Credit Score and History. An applicant's credit score is one of the most important factors a lender considers when evaluating a loan application. …
2. Income. …
3. Debt-to-income Ratio. …
4. Collateral. …
5. Origination Fee. …
TYPES OF LENDERS.
The three main types of lenders are
*Mortgage brokers (sometimes called "mortgage bankers"),
*Direct lenders (typically banks and credit unions),
*Secondary market lenders
The most common lenders are banks,​ credit unions, and other traditional financial institutions. However, there are many other types of lenders, including:
1. Peer-to-peer (P2P) lenders
2. Crowdfunding contributors
3. Family and friends
4. Yourself
As you look for a lender, consider the type of loan you need, whether you have any assets to pledge against the loan, and the other factors that will determine your ability to get a business loan and the terms of that loan. Be prepared with a personal financial statement, a business plan, and financial statements for your business.
At Bectic Finance Company Limited, we understand the complications and challenges that come with borrowing money. Whether it be a bank loan or another source, every type of loan has its drawbacks. That's why we've simplified the process for all businesses with recurring revenue.
BECTIC FINANCE COMPANY LIMITED was incorporated on 1988-11-11 as a Private company limited by shares registered in Hong Kong. It's company registration number is: 0232762.
At Bectic Finance Company Limited, we provide Bank instrument services to our clients global- UK, USA, UAE, Europe, India, China, Asia, Middle East and Africa.
Contact Bectic Finance Company Limited with your request via email and we will provide you with our forms and procedures.
Please contact us for more information on loans and other services we offer. We are open 24/7. 9am-4pm on weekdays, 11am-4pm on weekends:
BECTIC FINANCE COMPANY LIMITED
Website : becticfinance.com
Email : info@becticfinance.com
Phone number : +85281924518
Intermediaries/Consultants/Brokers are welcome to bring their clients 100% protected. In complete confidence, we will work together for the benefits of all parties involved.